Figure scene - sitting #20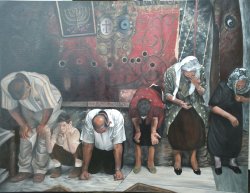 I continue with the figures, but also work on the mid ground behind them, correcting shadow tone/depth and ensuring a smooth transition between skin and clothing. I work on the foreground/floor in front of them as well. I develop further the whites of the shirt and head scarves as well the associated details/designs and any highlights to clothing are added. I ensure at this point the figures are 99% done.
Colours used - Cremnitz white, Ivory black, Naples yellow extra, ochre, yellow ochre, unbleached titanium dioxide, raw sienna, warm grey light, ultramarine, sepia extra, vandyke brown,burnt umber & sienna, cadmium orange, vermilion, flesh tint, alizarin crimson and caput mortum violet.
Brushes - #'s 2/0,1,2 & 3 rounds, #3 long flat #4 short flat blenders, #2 bristle fan blender, 3/8" squirrel tinter & #'s 2 and 5 stubby round blenders.